Some of the most beautiful work of this craftsman, and many others, are in this book "Liège Gunmakers through their Work. 1800 - 1950".
For more detail see: LIEGE GUNMAKERS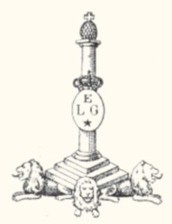 REVOLVER H. COLLEYE
It is about a revolver known as "of transition" born from the carcass of a pepper plantation and addition of a smooth barrel with percussion and an octagonal gun.
The relaxation out of specific ring of the peper-boxes actuates a higher flat dog.
The handle is out of ebony and is fixed by two rivet washers and a through screw.
The handle ends in a metal cap way diamond.
The gun is coarsely engraved EDUARD FISCHER IN CHUR, it probably acts of the name of the first owner.
It also carries the punches of the bench of tests of Liege, that is to say:
Spangled ELG in an oval: acceptance of 1846 to 1893.
U crowned: countermark of the controller pre 1877.
Lastly, the weapon carries the mark of manufacturer H. COLLEYE PATENTS in fact Henri Joseph COLLEYE arms manufacturer with CHERATTE which is known to have deposited 11 Belgian patents of 1855 to 1859.
GG