Some of the most beautiful work of this craftsman, and many others, are in this book "Liège Gunmakers through their Work. 1800 - 1950".
For more detail see: LIEGE GUNMAKERS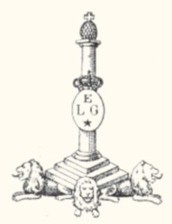 Comblain - Oury
Here is a nice 7 mm pinfire revolver, engraved, signed Comblain and Oury Breveté, and on the barrel Fabrique de Lepage Frères in Liège, Maison à Paris 12 rue d'Enghien. Ivory (or bone) grips, folding trigger.
The markings
Lepage Brothers in Liège: company registered in proofhouse of Liège from 1857 to 1868; according to Jarlier-Buigné: Henri and Perrin Lepage, active between 1823 -1860; they are reported in fact 12 rue d'Enghien in Paris in 1856.
Finot to Autun: unknown.
ELG on star in oval: accepted, in use between 1846 and 1893;
U crowned: countermark of a controller, in use between 1853 and 1877;
Comblain Hubert Joseph: armourer in Wandre, who deposited nineteen patents between 1854 and 1891;
But he was also associated with Henri Mangeot.
Oury: he must be J. J. Oury of Saint-Remy, since he filed four patents between 1859 and 1864, the period in question;
One of the two patents I own from JJ Oury, 8531 of January 24, 1860, evokes a small H coin on the left side that allows the barrel to be detached from the barrel axis. It could be said that it is the prelude to the coin in kind of S which we see on the right side of the copy in question. This S-piece is much more practical than the small H-piece of patent 8531.
But we do not have the said patent for this S-shaped part, if there is one.
Result: either the patent on the S-piece exists, and we may find it one day; the term "patented" should be used in the meaning of "patent holder(s)", not necessarily in relation to the weapon in question; either the fact that one of the two gunsmiths held a certificate/diploma as a gunsmith....
GP with the help of MAX