Some of the most beautiful work of this craftsman, and many others, are in this book "Liège Gunmakers through their Work. 1800 - 1950".
For more detail see: LIEGE GUNMAKERS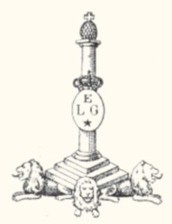 Philippe Coquette
Revolver top break with central percussion. The block cylinder-barrel swivels on an axis when the key of closing to the top of the hammer is released. The lock is with rebounding hammer.
The barrel is with eight sides with back sight elevated grain of barley.
The plates seem in moulded horn (foliage) and to be joined together by a central screw and two rivet washers.
The weapon carries the lawful punches of the profhouse of LIEGE, namely:
ELG on star in a vertical oval: final acceptance, of use of 1846 to 1893.
V and N crowned: countermarks of the controller of use of 1846 to 1877.
The weapon carries also a mark on the frame, namely:
P. COQUETTE PATENTS: it is about the inventor of this weapon either is Philippe Coquette, manufacturer of weapons street Bidault, 15 then 71 street Jonfosse in LIEGE. It was registered with the proofhouse of 1870 with 1877.Il deposited 14 patents concerning of the improvements to the firearm in general.
The present weapon was patented the 09.09.1873 under the n° 033225. The technical drawing of this patent is joined.
GG