Some of the most beautiful work of this craftsman, and many others, are in this book "Liège Gunmakers through their Work. 1800 - 1950".
For more detail see: LIEGE GUNMAKERS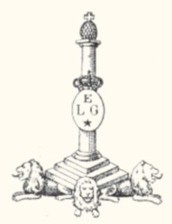 Coquilhat & Digneffe V.
Pretty small pepperbox pinfire 6 shots calibre 7mm.
The system of loading by the back is enough innovating since a half shield can swivel backwards to give access to the cylinder.
This pin cylinder is grooved and fixed at the frame by the central axis and the part before carcass.
The hammer without peak only indicates an operation in double action.
The trigger is folding without trigger guard.
The plates out of wooden of drowning smooth and are maintained by a transverse screw and two rivet washers.
The weapon carries the punches of the proofhouse of Liege, namely:
ELG on star in an oval: acceptance, of use of 1846 to 1893.
V crowned: countermark of the controller, of use of 1853 to 1877.
Period of manufacture: between 1853 and 1877.
The weapon carries also several markings of which most probably that of the manufacturer C & D in a horizontal cartouche.
They could be the mark COQUILHAT & DIGNEFFE V which was registered with the proofhouse of 1855 to 1858.
The mark in hollow struck the interior of the handle is not very readable and is unknown for me.
844: could be a serial number.
On the barrel the overloaded marks 3 and F are also unknown for me.
GG