Some of the most beautiful work of this craftsman, and many others, are in this book "Liège Gunmakers through their Work. 1800 - 1950".
For more detail see: LIEGE GUNMAKERS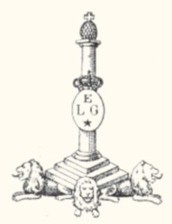 Dandoy Célestin
It is about a revolver ADAMS to percussion (cap & ball)
The barrel is octagonal with rectangular back sight.
The cylinder is smooth with six rooms of gauge 44.
The hammer is hidden (hammerless).
The trigger is curved and smooth under trigger guard.
The tamping-bar is placed on the left side.
The stick of a part (in walnut?) is finely squared.
Punches
The weapon carries the punches of tests of Liège, namely:
ELG on star in a vertical oval: final acceptance, of use of 1846 to 1893.
The punch, letter under crown or star, which is the mark of the controller, is invisible on the photographs.
Marks
V crowned: it is about the punch of the test of LONDON of 1670 to our days.
5582: serial number.
PATENT ADAMS: arm invented by English ADAMS and manufactured by a manufacturer of Liège.
Crowned CD: mark of Dandoy Célestin, first director of Manufacture Inhabitant of Liège of Weapons with Fire.
(Bull. M.A.L n° 75 of sep. 1993 - Revolvers and rifle with grapeshot of doctor Mat to the museum of weapons of Liege by C. Gaier)
This company was born on 15 March 1866 and its statutes deposited in front of Master Trokay, notary in Liege.
Célestin Dandoy, former judge with the commercial court, domiciled in Liege and acting for the limited partnership established in Liege under the name of C. Dandoy and Co.
Since 1851 C. DANDOY works in partnership with arms manufacturers MAILLARD and LUCQ to import revolvers ADAMS. It manufactures then this weapon under licence and with the copies also under licence of the revolver BEAUMONT-ADAMS. This arms with solid construction carries the mark CD of the arms manufacturer. He is registered with the proofhouse of Liège of 1846 to 1865 then of 1865 to 1867 under the denomination C DANDOY & Co.
About 1866, DANDOY meets the celebrates colonel Le MAT which seeks a manufacturer for his not less famous revolver.
Become Director of "MANUFACTURE LIEGEOISE D'ARMES A FEU" Rue du Vertbois, 54 in LIEGE, DANDOY re-examines the architecture of the weapon and simplifies singularly it.
GG