Some of the most beautiful work of this craftsman, and many others, are in this book "Liège Gunmakers through their Work. 1800 - 1950".
For more detail see: LIEGE GUNMAKERS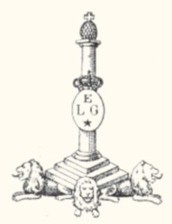 Louis De Brus (perhaps)
The weapon
Revolver with central percussion and top break of the type S&W.
The opening is practiced by raising the hinge being with the top of the cylinder.
The cylinder is grooved and of long type, the gauge is 5,75 velo-dog, it comprises six chambers.
The extractor is out of star with stems guides.
The rifled bore is round with front sight in half-moon.
The lock is with rebounding hammer.
The trigger without trigger guard is folding under the carcass.
The grips in wood (ebony or false ebony?) smooth are connected by a screw and two rivet washers.
The weapon is nickelled.
Punches
The weapon carries the punches of tests of Liège, namely:
ELG on star in an oval under crown: acceptance post 1893.
AH under star: countermark of the controller post 1877.
PV surmounted of a drawn up lion: test with the powder without smoke, of use of 1898 to 1968.
R under crown: rifled bore, of use of 1894 to 1968.
Marks
On the cylinder we discover the mark L crowned which resisted until now all research. In do any assumption, we think that it is about a mark of foundry?
LD Bté: mark unknown, it could possibly act of:
De Brus Louis (BE 1898/1937) street Out-Castle, 128 in Liege. Author of 6 patents of 1903 to 1905.
Dumoulin Lambert (BE 1920/1965) Liege street St Gilles, 55.
GG