Some of the most beautiful work of this craftsman, and many others, are in this book "Liège Gunmakers through their Work. 1800 - 1950".
For more detail see: LIEGE GUNMAKERS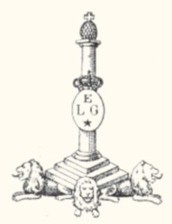 Dieudonné Debouxthay
The weapon
It's a revolver of pocket with central percussion.
The grooved cylinder is of type VELO-DOG of calibre 6mm.
The hamer is hidden in the body of the weapon (hammerless).
The frame is closed and the octagonal barrel with front sight in half-moon.
The folding trigger without trigger guard is swell and pierced in its end.
The loading is practiced by the right side door dropping thanks to the action of an internal spring.
Unloading is practiced room by room using the metal rod with head of nipple swivelling on an axis.
A safety DEBOUXTHAY PATENTS is installed on the console in front of the barrel.
The handle consists of two plates gutta-perched about it or moulded horn joined together by a screw and two rivet washers.
Punches
They are the lawful punches of the proofhouse of Liege, namely:
(Non visible) ELG on star in a crowned oval: acceptance post 1893.
R crowned: rifled bore post 1894.
L spangled (read so well?) countermark of the controller post 1877.
The manufacturer
DD Bté: it is about the mark of DEBOUXTHAY Dieudonné, arms manufacturer in Liege street Saint Léonard, 449. It was registered with the bench of tests of the town of 1879 to 1934.
From 1901 to 1905, it deposited six patents relating to safeties of revolvers and improvements to the rods of revolvers. (See joined illustration)
GG