Some of the most beautiful work of this craftsman, and many others, are in this book "Liège Gunmakers through their Work. 1800 - 1950".
For more detail see: LIEGE GUNMAKERS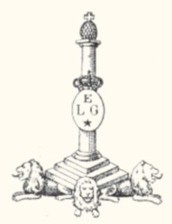 Dery Jean Michel
Here is a hammerless revolver, copy of a Smith & Wesson "top break", made in Liège. Long foldable trigger for two fingers. Five shots, more than likely in . 380 caliber judging by the 380 left side. Crosse in corbin's beak.
The markings
2298: probably a manufacturing number
.
ELG on star in oval: accepted, in use between 1846 and 1893
.
D under starlight: countermark of a controller, in use between 1877 and 1968
.
As for the letters on the carcass under the right plate, another member of the team linked them to J. M. Dery. Here is the result of his research which can be related to the brand J. M. D. (identified in the files of another member of the team, unfortunately deceased) as being "Dery J. M. & Cie.".
A genealogy site allowed to know a little more: Jean Michel Dery - Manufacturer of arms - Born on August 16, 1849 in Wandre.
Married on November 9, 1883, in Wandre, to Marie Elisabeth D'Heure.
It links him to Mr. Dery. -D'Heur (probably her son, with an "e" minus), registered at Proofhouse of Liège between 1899 and 1919, etc. on page 71 of the "Who is who of the Liège armoury".
GP with the help of MC and PHL.