Some of the most beautiful work of this craftsman, and many others, are in this book "Liège Gunmakers through their Work. 1800 - 1950".
For more detail see: LIEGE GUNMAKERS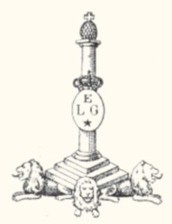 D. Doye
The weapon
It is about a pistol of shooting of living room or stand of the type FLOBERT to annular percussion.
The calibre is of the 6 mm flobert.
The barrel is with 8 sides with sight (front sight - bead)
The hammer without peak is with extractor.
The trigger guard is with rest-finger while the trigger is slightly curved and smooth.
The cast solid stick out of wooden of walnut east works in style "REBIRTH" with palmettos.
It ends in a metal cap with baluster.
It is fixed at the metal parts by two supports, one higher other the lower.
Punches
I did not see any punch on the photographs.
Markings
The only visible mark on the weapon represents a lion drawn up on its posterior legs and holding one shield in its legs. The interior of the shield is illegible.
I already met this type of marking on a weapon of the same type it was mark DOYE.
(See mark in appendix)
The only DOYE known in Who's Who is DOYE D. of Brussels about 1867.
It is patentee Belgian for weapons taking care by the breech with central percussion.
GG
The mark resembles also curiously the mark of French Flobert!
But as it is illegible, how to decide between them.
I leave you judge, here are the two marks!
Alain
Mark D. DOYE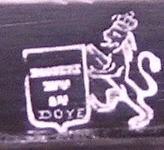 Mark Flobert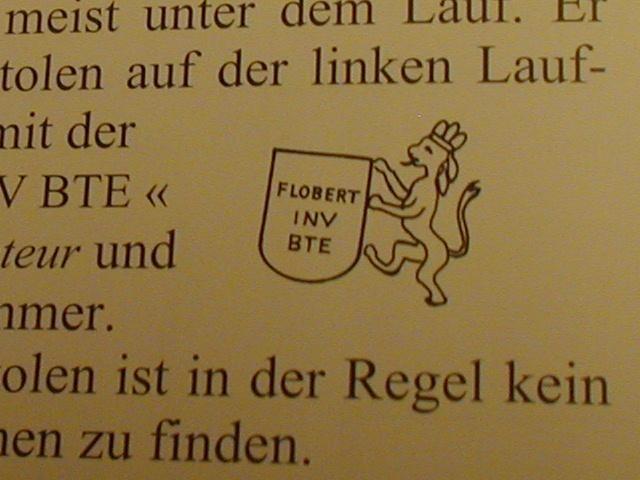 Mark of this weapon.