Some of the most beautiful work of this craftsman, and many others, are in this book "Liège Gunmakers through their Work. 1800 - 1950".
For more detail see: LIEGE GUNMAKERS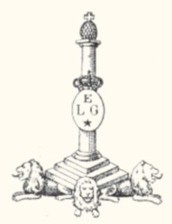 Dresse Laloux
This is an open-frame and pinfire revolver. The barrel is smooth. The barrel is round and probably rifled, with a triangular front sight.
The rod is nail-headed, it slides into the console where it is held by a spring blade.
The trigger is curved without trigger guard.
The stock is pear-shaped with a central screw and two rosettes.
The weapon bears the statutory marks of the Liège proofhouse, namely:
ELG * in a vertical oval: definitive acceptance, no use from 1846 to 1893.
Crowned Y: Controller's countermark, in use from 1853 to 1877.
The gun also bears a trademark of a fly or a bee with the letters D L on each wing. This is the brand of manufacturers Dresse -Laloux (BE 1867/1908) rue Sur la Fontaine, 47 in Liège. This company has filed 24 patents.
GG