Some of the most beautiful work of this craftsman, and many others, are in this book "Liège Gunmakers through their Work. 1800 - 1950".
For more detail see: LIEGE GUNMAKERS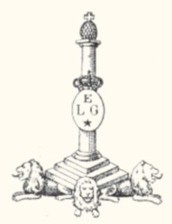 Drisket & Waroux
Here is a percussion gun with two bronze guns, made in Liège very "basic" and therefore inexpensive, the guns and the carcass seeming to be cast in one piece.
The markings:
ELG on star in oval: accepted, in use between 1846 and 1893
R crowned: countermark of a controller, between 1853 and 1877
D&W: it could be Drisket & Waroux, registered at the proofhouse between 1856 and 1872, see link :
www..littlegun.be/arme%20belge/artisans%20identifies%20den/a%20drisket%20and%20waroux%20gb.htm
The initials D&W are in any case very similar to those of the gun under review.
We don't have much about them: in 1862, Drisket & Waroux established themselves at Quai de la Batte, 3; they are listed as "Manufacturer of weapons of war, luxury and export and hardware".
According to another source, they were in dispute with E. G. Lefaucheux in 1865, but this has nothing to do with the weapon in question.
Finally, the firm would have had an office in London at 39 Monkwell. Street E. C. between 1870 and 1872.
Although this weapon was produced/sold by Drisket & Waroux, it was at the very beginning of their career that began as percussion weapons were becoming obsolete.
GP with the help of PHL