Some of the most beautiful work of this craftsman, and many others, are in this book "Liège Gunmakers through their Work. 1800 - 1950".
For more detail see: LIEGE GUNMAKERS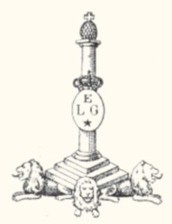 Ferdinand Drissen
The weapon
Revolver BULLDOG reduced to knowing a "PUPPY".
The weapon is with central percussion and box frame. The unit is nickelled.
The barrel is round and probably striped with front sight in half moon.
The cylinder is grooved and is to 5 or 6 rooms (not communicated) of gauge .22 shorts.
The loading is practiced by a right side door dropping thanks to the action of an internal spring.
Disarmament is practiced using the metal rod swivelling on an axis.
The right trigger is swell and pierced at its end, it is without trigger guard and retractable under the carcass.
The plates seem to be out of ebony wood. They are smooth and connected by a screw and two rivet washers out of brass.
The weapon carries a light engraving of style "foliage".
Punches
The weapon carries the punches of tests following of Liège:
ELG on star in a vertical oval: final acceptance, of use of 1846 to 1893.
B spangled: countermark of the controller post 1877.
Period of manufacture: between 1877 and 1893.
Marks
Letters FD in a horizontal rhombus: It is about the trademark of Ferdinand DRISSEN, registered voter with the proofhouse of 1874 with 1900. It resided street Forgeur, 10 in LIEGE. From 1898 to 1899, it deposited two arms patents. (See site).
52: probably a serial number.
Quantify 2 on the door: marking of workshop??
GG