Some of the most beautiful work of this craftsman, and many others, are in this book "Liège Gunmakers through their Work. 1800 - 1950".
For more detail see: LIEGE GUNMAKERS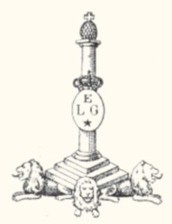 Dumoulin Colombier
Here's a pinfire revolver in his box with the words Dumoulin Colombier Fabricant d'armes à Liège (Dumoulin Colombier Arms manufacturer in Liège). Closed frame.
The markings:
ELG on star in oval: acceptance mark, in use until 1893;
N crowned: countermark of a controller, between 1853 and 1877;
GM crowned: unidentified
Dumoulin -Colombier, manufacturer in Liège from 1849 to 1877
The period of activity is fully consistent since the weapon has been transferred to the proofhouse of Liège by 26 January 1877 at the latest....
GP with the help of MC