Some of the most beautiful work of this craftsman, and many others, are in this book "Liège Gunmakers through their Work. 1800 - 1950".
For more detail see: LIEGE GUNMAKERS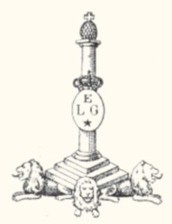 Ecossaise calibre .380
The weapon
It is about a two shots pistol, central percussion and of break opening, named "Scottish" in Liege or "Brazilian pistol".
The barrels are striped and juxtaposed of gauge 380.
The double trigger is protected by a trigger guard with rest-finger.
The whole of the weapon is nickelled and carries rather simple engraving foliage.
The stick of the banana type is out of dark wood, standard ebony or distorts ebony, squared in the past with a transverse screw and two brass rivet washers.
Punches
They are the punches of the proofhouse of Liege, namely:
ELG on star in a crowned oval: final acceptance post 1893.
R spangled: countermark of the controller post 1877.
Peron: inspection post 1853.
R crowned: rifled bores, of use of 1894 to 1968.
The manufacturer
This one did not affix any marking on the weapon, so that, according to its desire, there will remain anonymous.
GG