Some of the most beautiful work of this craftsman, and many others, are in this book "Liège Gunmakers through their Work. 1800 - 1950".
For more detail see: LIEGE GUNMAKERS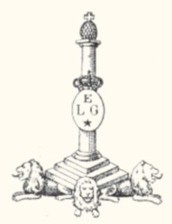 Shooting pistol ENGLEBERT - FRANCOTTE
It is about a pistol of single shot of annular gauge 22 L Flobert.
The octagonal barrel is equipped with a front sight with ramparts and an adjustable bead in height and drift.
The trigger guard is with rest-finger.
The stick of a part in drowning is finely squared and is maintained with the carcass by a through screw and two rivet washers in rhombus.
This weapon with top break opens to the action of a snap placed in front of the trigger guard.
The striker is of the internal type.
The weapon carries the punches of the bench of tests of Liège, namely:
Spangled ELG in a crowned oval: acceptance post 1893
Peron: inspection post 1853.
R crowned: rifled bore, of use of 1894 to 1968.
C spangled: countermark of the controller post 1877.
The other marks are:
On the barrel: A. FRANCOTTE A LIEGE and crowned AF: without comment!
On rocker A.ENGLEBERT arms manufacturer inhabitant of Liège known for the deposit of a patent in 1880 and one binary system of cylinder-conical and helicoids stripes, applying to all species of firearms. This system was judicious to improve the precision with the shooting.
FL 22L: calibre FLOBERT 22.
GG