Some of the most beautiful work of this craftsman, and many others, are in this book "Liège Gunmakers through their Work. 1800 - 1950".
For more detail see: LIEGE GUNMAKERS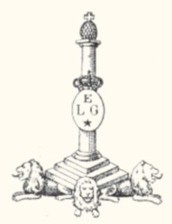 Armand Etienne
The weapon
It is about an automatic pistol of type BROWNING 1906 manufactured by the arms manufacturer ETIENNE Armand in LIEGE.
The calibre is 6,35 mm Browning.
The magazine is of a capacity of 7 shots.
He is equipped with a manual safety on the side postpones left.
The breech is equipped with scratches of gripping to facilitate the armament.
Punches
The weapon carries the lawful punches of the proofhouse of Liege, namely:
ELG on star in a crowned oval: final acceptance post 1893.
C spangled: countermark of the controller post 1877.
PV surmounted of a stylized lion: test with the powder without smoke, of use of 1898 to 1968.
Markings
Made in Belgium: without comment.
5204: serial number.
2, raised on several constituent parts of the weapon, probably a marking of workshop?
6,35 Br.: calibre 6,35 mm Browning.
Logo of handle Pistol barred of an arm armed with a sword: mark of ETIENNE Armand.
The manufacturer
ETIENNE Armand street Patenier, 29 in LIEGE is the manufacturer of this weapon not his inventor since it is about a free adaptation of the BROWNING 1906. It forever deposited the least patent. It deposited a mark in 1917 (unknown but perhaps acts it of the mark above) and in 1919 (mark TANK-PISTOL).
In addition, the Manufactory LEPAGE street of Augustins, 26 in Liege (BE 1919/1961) manufactured the same weapon of 1925 to 1932. The only difference was the logo of handle representing a barred pistol of a torch! (See representation of the weapon in enclosure).
I am unaware of if there were any agreement between ETIENNE and LEPAGE!
GG