Some of the most beautiful work of this craftsman, and many others, are in this book "Liège Gunmakers through their Work. 1800 - 1950".
For more detail see: LIEGE GUNMAKERS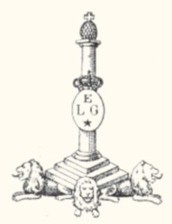 Fabrique D'armes réunies
Manufacture of weapons.
Rue Charles Morren, 26-28 Liège (03/02/1921)
Deposited of mark.
N° 2575 – Liège 03/02/1921
Founded in 1909 to produce the semi-automatic gun Dictator.
Reorganized after 1918 in "Fabrique d'Armes Unies".
Disappearance about 1931.
DICTATOR of the Fabriques d'armes réunies (FAR)
This small automatic gun of pocket has the comic name of DICTATOR.
It is of caliber .25 or 6,35 mm, the barrel measures 58 mm and carries 4 stripes on the right.
Its weight is 415 grams. It is 119 mm long, 81 mm high and is a thickness of 22,5 mm.
Its system is with simple action. The sight is fixed and safety with lever.
The completion is bronzed. The grips are out of hard plastic with letters SBF in an oval lying. These letters should for me represent the founders of the F.A.R. is SIMONIS, BERTRAND and FRESARD.
Another type of plates represents the equestrian statue of CHARLEMAGNE (trade mark the 24.07.08.
This automatic pistol was patented in 1909. The license (brit.pat.20277/09) was taken in the name of the company.