Some of the most beautiful work of this craftsman, and many others, are in this book "Liège Gunmakers through their Work. 1800 - 1950".
For more detail see: LIEGE GUNMAKERS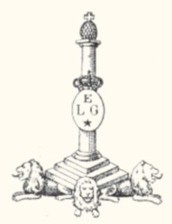 Guillaume Fagnus
The revolvers pinfire of Liège equipped with a trigger spur are ultra extremely rare.
Marcel
Arm indeed not very current.
It is thus about a closed framework and pinfire revolver!
I do not know his dimensions, but it seems to be a model of pocket.
The gun seems to be with 4 broad stripes, it is round and without back sight.
The cylinder is smooth.
The trigger is "with Mexican" or spur!
The rod is screwed inside the handle in nozzle of corbin.
The plates seem me to be to drown some, joined together by a screw and two rivet washers out of brass.
The loading is practiced by a side door with button dropping thanks to the action of an external spring.
The weapon carries the punches of tests of Liège, namely:
ELG on star in an oval: acceptance 1846/1893.
G under crown: countermark of the controller of use of 1853 to 1877.
It also carries the initial GF struck the left side of the carcass.
In any assumption, it could acts of FAGNUS Guillaume in Liege which is the author of a patent of improvement of the pistol-revolvers deposited in 1865.
More concretely, the patent n° 30174 of the 15.03.1872 allotted to this weapon was deposited by Alexandre Fagnus & Co (see at the foot of the page)
I am unaware of if the 2 Fagnus were same family and if they collaborated on this weapon but that is possible.
GG