Some of the most beautiful work of this craftsman, and many others, are in this book "Liège Gunmakers through their Work. 1800 - 1950".
For more detail see: LIEGE GUNMAKERS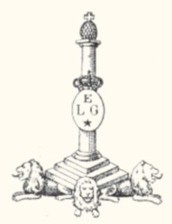 Fastre-Fraikin François
It is about a revolver of the type "PUPPY" i.e. a bulldog of reduced size.
It is with central percussion and closed framework.
The short barrel is round with a front sight in half-moon. It is also striped.
The cylinder is with ellipses.
The loading is practiced by a side door dropping thanks to the action of an internal spring.
The rod swivels on an axis and is used for unloading of the casings to one.
The hammer is of type "swell" and indicates to my direction which the weapon draws only in double action.
The wood plates finely squared are maintained using a transverse screw and two rivet washers on the metal framework of handle.
The trigger without trigger guard is folding under the frame to avoid the fixing at the time of the setting out of pocket.
The weapon carries the punches of the proofhouse of Liege, that is to say:
ELG on star in a crowned oval: acceptance post 1893.
E under spangled: countermark of the controller post 1877.
R crowned: rifled bore, of use of 1894 to 1968.
Other markings
23: is a job number.
FF in a cartouche could belong to the manufacturer of weapons FASTRE-FRAIKIN, François of Housse province of Liege which was registered with the proofhouse of 1884 to 1902.
This craftsman deposited 4 patents during this period. In particular for a safety applicable to all the revolvers, a door automatic rod for the revolvers and a modification with a safety applicable to the revolvers.
This mark remains nevertheless to be checked!!
GG