Les plus belles réalisations de cet artisan, et bien d'autres encore, se trouvent dans le livre "Les armuriers Liégeois à travers leurs réalisation. 1800 - 1950".
Pour tous les détails voir : LES ARMURIERS LIEGEOIS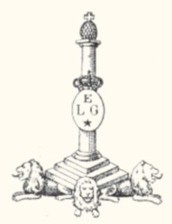 Auguste Francotte
It is about a revolver FRANCOTTE top break of the type GASSER to extractor.
The barrel with eight sides is equipped with a front sight in half-moon and a bead out of V.
The barrel with 6 shots is not grooved and of gauge 450
The opening of the weapon is done by a pedal of the type COUNET located on the left side of the frame.
While yielding, the star extractor goes up and ejects the casings.
The stick in the pear shape with two squared plates ends in a ring.
The weapon carries the punches of tests of Liège:
Spangled ELG in an oval: acceptance of use of 1846 to 1893.
K crowned: countermark of the controller of use of 1853 to 1877.
Mark A.FRANCOTTE A LIEGE struck the gun belongs of course at this famous firm.
GG