Some of the most beautiful work of this craftsman, and many others, are in this book "Liège Gunmakers through their Work. 1800 - 1950".
For more detail see: LIEGE GUNMAKERS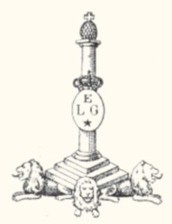 Edgard GRIMARD
This traditional small shotgun, also called "of poacher", is a rifle of the type LECLERC to serpentine key of gauge 9 mm Flobert.
It carries the punches of the proof house of Liège following:
Spangled ELG in a crowned oval: acceptance - post 1893.
P (with back) spangled: countermark of the controller post 1877.
Peron: inspection post 1853.
FL 9: gauge 9 mm FLOBERT.
It carries also the mark of the manufacturer (triangle on point and rounded above with letters EGL) of Edgard GRIMARD already evoked on the site.
The mark D crowned should be in my opinion that of the manufacturer of guns O. DELCOUR of Nessonvaux also evoked on the site.
GG