Some of the most beautiful work of this craftsman, and many others, are in this book "Liège Gunmakers through their Work. 1800 - 1950".
For more detail see: LIEGE GUNMAKERS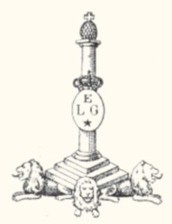 HENRION-DASSY-HEUSCHEN
The weapon
It is about a single stroke pistol with annular percussion of type FLOBERT.
It is equipped with an extractor ejector.
The barrel is rectangular with the thunder then round to the mouth.
The trigger without trigger guard is of type "spur" or with "Mexican".
The gauge is of 6mm Flobert.
The plates are out of wood of drowning squared joined together by a screw.
Do the round rivet washers seem missing?
This weapon still formed part of catalogue HDH of 1928 (see page in appendix)
It perhaps regarded as arms with player or back up gun!
Punches
ELG on star in a summoned vertical oval of a crown: acceptance post 1893.
With summoned of a star: countermark of the controller post 1877.
Peron: inspection post 1853.
Marks
FL6: gauge 6 mm Flobert.
H.D.H.: mark of the manufacturer HENRION-DASSY-HEUSCHEN partnership, street Chéri, 22 in LIEGE. The company was registered with the registers of the manufacturers of the proofhouse of 1910 to 1921 then changed several times of corporate name, namely:
- H.D.H. its (BE 1921 to 1924.
- Munitions factory HDH street of the Meadows, 8 in Liege (BE 1924/1925)
- H.D.H its: (BE 1925/1929)
- H.D.H Manufactures (BE 1929/1932)
- H.D.H s.a.: (BE 1932/1934)
GG