Some of the most beautiful work of this craftsman, and many others, are in this book "Liège Gunmakers through their Work. 1800 - 1950".
For more detail see: LIEGE GUNMAKERS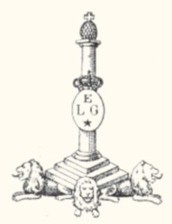 HALLEUX Louis
Revolver of pocket of the Lincoln type to central percussion with 5 shots of gauge 320.
Rifled bore, with sides, with front sight in half-moon.
Grooved barrel with 5 chambers.
The door of loading of the type ABADIE opens backwards.
The trigger swell and pierced in its end is folding and encase under the frame.
The rod assembled on spring, swivels only towards the left when one draws it forwards.
It carries the lawful punches of the proofhouse is:
Spangled ELG in a crowned oval: acceptance post 1893.
Spangled UA: countermark of the controller post 1877.
R crowned: rifled bore, of use of 1894 to our days.
PV surmounted of a stylized lion: test with the powder without smoke, of use of 1898 to 1968.
Other marks
Letters L.H. in two cross branches of bay-trees: it is about the mark of Louis HALLEUX manufacturer of weapons in Liege and registered with the proofhouse of 1904 to 1922. In all probability, in this case, it is only about the manufacturer of the weapon.
ND Bté and LD Bté: unknown marks, it is the first time that I meet two different marks of inventors on the same weapon. I do not have unfortunately any concrete element allowing me to identify these inventors!
GG