Some of the most beautiful work of this craftsman, and many others, are in this book "Liège Gunmakers through their Work. 1800 - 1950".
For more detail see: LIEGE GUNMAKERS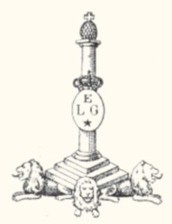 Joseph Jacquemart
The weapon
This automatic pistol of gauge 6,35 mm is a realization of Joseph JACQUEMART.
The carcass, the barrel and the slide are of only one part what justifies "Monobloc" name.
The magazine can contain six cartridges of 6,35 mm to central percussion.
The weapon measures 116 mm and the barrel 53 mm.
The weapon is equipped with the safety placed on the right side in front of the trigger guard, it is mark S of sureté (safety).
Punches
This weapon carries the punches of the proofhouse of Liege, that is to say:
- ELG on star in an oval under crown: acceptance post 1893.
- R under crown: rifled bore of use of 1894 to 1968.
- AT under star: countermark of the controller post 1877.
- PV under a stylized lion: test with the powder without smoke, of use of 1898 to 1968.
Marks
It also carries on the breech the mark "the MONOBLOC" Pistolet automatique Breveté which is the trade mark by Jacquemart the 20.07.1911.
The logo of handle represents letters JJ interlaced of Jacquemart Joseph.
The manufacturer
JACQUEMART-PIROTTE, Joseph was industrial and manufacturer of weapons quay of Channel 28 with HERSTAL. It was registered with the registers of the proofhouse of Liege of 1908 to 1926.
From 1903 to 1911, it deposited three patents for a rifle hammerless (with J.J.Maréchal}, an ejector of rifle and the automatic pistol MONOBLOC.
After his death, the company was taken again by its widow Mde PIROTTE Veuve Jacquemart. This one deposited a new trademark "SPORTEX" the 12.05.1936.
Publicity
In appendix two publicities of this company.
GG