Some of the most beautiful work of this craftsman, and many others, are in this book "Liège Gunmakers through their Work. 1800 - 1950".
For more detail see: LIEGE GUNMAKERS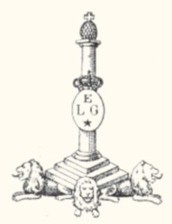 Janssen Fils & Cie
This is a hammerless "hunchback" type revolver. The rifled barrel is round with an upper rectangular stripe and a crescent front sight. The power is provided by a right side door. The fluted cylinder looks like it's five shots away. The calibre is .320. A safety is placed on the rear left flank. The plates of grips seem to me to be in gutta-percha or ebonite.
The weapon bears the statutory hallmarks of the Liège proofhouse, namely:
ELG * in a crowned oval: acceptance post 1893.
L *: countermark of the controller post 1877.
R crowned: striped gun, in use from 1894 to 1968.
PV surmounted by a stylized lion: smokeless powder proof, in use from 1898 to 1968.
The gun also bears the manufacturer's mark, namely Janssen Fils & Cie rue Saint Gilles, 87 in Liège.
GG