Some of the most beautiful work of this craftsman, and many others, are in this book "Liège Gunmakers through their Work. 1800 - 1950".
For more detail see: LIEGE GUNMAKERS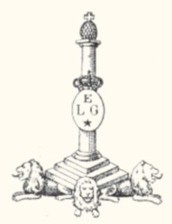 JMB
Here is a Liège peperbox of caliber . 320 , with grid-shaped black wood grips, possibly ebony, with an elongated cylinder, each of which six chambers acts directly as barrels.
Ejection of the casings is made with the help of the rod screwed into the handle.
The markings
ELG in oval: accepted from 1846 to 1893
L and U under star: Controller's countermarks from 1877 to 1968
JMB under plate of grip : Unidentified, probably the founder.
This type of weapon was manufactured in (hundreds of) thousands in the second half of the 19th century because the cost of production was much lower than that of a revolver.
GP