Some of the most beautiful work of this craftsman, and many others, are in this book "Liège Gunmakers through their Work. 1800 - 1950".
For more detail see: LIEGE GUNMAKERS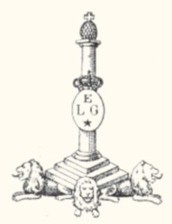 Kinapen François / Galoppin
This is a caps pistol. The single barrel is hexagonal with brass front sight. The trigger is straight in a finger rest trigger guard. The grips is made of banana-shaped smooth walnut. The engraving is of the Louis XV type.
This weapon is the subject of a patent of François Kinapen de Liège bearing the No. 1028 filed on 07. 03. 1857. (See attached copy)
The weapon bears the hallmarks of the Liège proofhouse, namely:
ELG * in an oval: accepted, in use from 1846 to 1893.
Crowned V: Controller's countermark, in use from 1853 to 1877.
The weapon shall also bear the following markings:
F. Kinapen Patented in a lying oval: trademark of Kinapen François, Mathieu, registered to the proofhouse of Liège from 1860 to 1862, then from 1862 to 1863 under the name of Kinapen F & Cie and finally from 1863 to 1873 under its own name. He's the author of 4 patents.
Ch. Galoppin Brussels: It's the Brussels gunmaker who resells that gun.
GG