Some of the most beautiful work of this craftsman, and many others, are in this book "Liège Gunmakers through their Work. 1800 - 1950".
For more detail see: LIEGE GUNMAKERS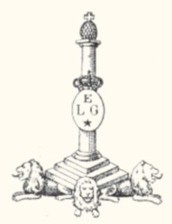 L dans un écusson
Very pretty "puppy" cyclist with trigger out of ring.
The grips is of astonishing form and one to put the question about its utility.
In the same way the peak of hammer is of only intended uncommon form seems it with decoration.
This weapon with the anachronistic aspect was unknown for me so far.
It carries the punches of the proofhouse of Liege, namely:
Spangled ELG in a crowned oval: acceptance post 1893.
Coupled AK and spangled: countermark of a controller post 1877.
R crowned: rifled bore post 1894.
The manufacturer with seems it left his mark, L capital in one escutcheon!
This mark does not appear by in the collection of the trademarks and is completely unknown for me.
I discovered a L in an oval pertaining to Louis CLOSSET and a L in letter of printing works belonging to the firm ARMES ET MUNITIONS but I doubt much that that corresponds to the mark which occupies us.
GG