Some of the most beautiful work of this craftsman, and many others, are in this book "Liège Gunmakers through their Work. 1800 - 1950".
For more detail see: LIEGE GUNMAKERS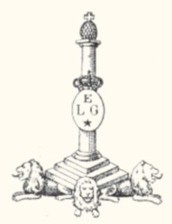 S.Lagauche
Rifle of the type Remington Rolling block, imitation of Liège of a weapon of Swiss shooting of precision. The trigger guard is with volutes, the aiming with cursor, the stick with cheek ending in a plate of layer with hook such as the Swiss rifles.
It is in gauge 6 mm Flobert, the gun is striped.
Punches
It carries the punches of the bench of tests of Liege, that is to say:
Spangled ELG in a crowned oval: final acceptance, of use of 1893 to 1968.
A spangled : countermark of the controller, of use of 1877 to 1968.
Perron: inspection - of use of 1853 to our days;
R crowned: rifled bore, of use of 1894 to 1968.
The manufacturer
I have several named arms manufacturers LAGAUCHE in store with knowing:
Lambert LAGAUCHE, street St Léonard, 147 in Liege. (1869/1944) In 1896, it deposits a Belgian patent for a system of longuess ejector for double-barrelled guns.
At its hours, he was also a spare-time painter. One of its work, an arms manufacturer in room, was used as cover with the book LES ARMURIERS LIEGEOIS EN CATALOGUES which you can see on the site (Belgian weapons - publications of our collaborators)
LAGAUCHE unknown first name, brother of the precedent, poet at his hours, lived street Dony, 30 in Liege about 1890.
LAGAUCHE, unknown first name, arms manufacturer, street St Léonard, 57 in Liege.
I do not know which is the S Lagauche but I will carry out some research.
GG
Photos Littlegun