Some of the most beautiful work of this craftsman, and many others, are in this book "Liège Gunmakers through their Work. 1800 - 1950".
For more detail see: LIEGE GUNMAKERS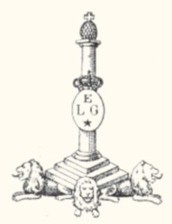 Larose Jean-François
Here's a beautiful central percussion revolver in . 380 caliber.
It bears the marking (little visible) Larose Patent.
Jean -François Larose, armourer, locksmith and stove-maker domiciled in Liège, rue Saint Severin, n° 26, active since 1859.
He filed three patents in Belgium concerning a cylinder head-loading firearm system and a central impact revolver gun system.
The weapon presented is the subject of the patent filed on June 7, 1870 under No. 27 706.
ELG on star in oval: accepted between 1846 and 1893;
L crowned: countermark of a controller between 1853 and 1877.
GP with assistance from HPH and GG (†)