Some of the most beautiful work of this craftsman, and many others, are in this book "Liège Gunmakers through their Work. 1800 - 1950".
For more detail see: LIEGE GUNMAKERS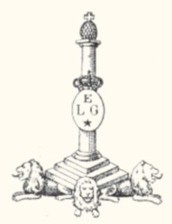 Noël Ledent
The weapon
Small revolver of pocket of the bulldog type to semi hidden hammer with bored ball. The cylinder with 5 rooms is in calibre 320. The barrel is round with a front sight in half-moon, safety causes the stop of percussion and is behind the hammer.
The loading is done by a side door opening using a spring interns and the ejection of the drawn casings is carried out by a rod which swivels on an axis and slides in a guide.
The weapon is nickelled and carries an engraving to English to rollers.
The stick is consisted two mother-of-pearl plates, joined together by a screw on two rivet washers.
The trigger is embedded (without trigger guard).
Punches
The only punch of test visible on this weapon is Z spangled which is the countermark of a controller of the proofhouse of Liege post 1877.
Marks
Of the inventor:
The inventor of this stop of striker is the arms manufacturer Nöel LEDENT of Barchon (province of LIEGE) He deposited the patent relating to this invention in 1881. Its mark is reproduced on an amount of stick.
Of the manufacturer
The manufacturer could be BP crowned well but without certainty, no similar mark is included (currently) in documentation.
4105: serial number.
Subcontractors:
LJJ: mark unknown, probably subcontractor.
BB: idem. The subcontractors, true drudges anonymous of arms manufacture of Liège unfortunately never had the honors of a study, so that there is not any file the identifiers!
Of the retailer
Mark L.CHOBET Paris, 16 street Lafayette struck the top of the console is that of the Parisian retailer.
GG