Some of the most beautiful work of this craftsman, and many others, are in this book "Liège Gunmakers through their Work. 1800 - 1950".
For more detail see: LIEGE GUNMAKERS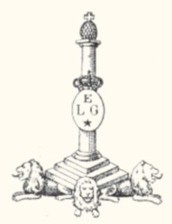 Eugène Lefaucheux ou Emile Lepage
The weapon
Revolver with vertical percussion (pinfire) and open frame.
This weapon is an adaptation of Liège of the very popular revolver Eugene LEFAUCHEUX, 7 mm with double action only having been born in 1854.
The barrel is round and probably striped; it carries a front sight in the shape of elevated barley grain.
The hammer is without peak but the weapon functions in double and simple action, it is possible that the hammer was removed to be able to put the weapon out of pocket without hanging this one!
The trigger without trigger guard is articulated and is folded up under the carcass.
The loading is practiced by the right side door dropping thanks to the action of an internal spring.
The metal rod head kind of nail slides in a guide integrated into the console and which is maintained by a small leaf spring.
The handle consist of two wood grips (of walnut?) squared and maintained by a through screw and two rivet washers with ear.
Punches
The weapon carries the lawful punches of the proofhouse of Liege, namely:
ELG on star in a vertical oval: final acceptance, of use of 1846 to 1893.
U crowned: countermark of the controller, of use of 1853 to 1877.
Markings
The weapon carries the trademark crowned EL which has not been able yet to be identified with certainty. Two explanations are opposed, namely:
a) could belong to the manufacturer of weapon Emile LEPAGE (BE 1850/1872) street Out-Castle, 76 in Liege and author of two patents.
b) could be (Guillaume is quasi certain) the mark of the Liège factory of Eugene LEFAUCHEUX in LIEGE quay of Fragnée, n° 13 directed by Joseph Bronne until 1868 then Gustave Bronne until 1873!
We are there currently and expect from it possible the reaction of a reader scholar who can raise the doubt about this mark.
GG