Some of the most beautiful work of this craftsman, and many others, are in this book "Liège Gunmakers through their Work. 1800 - 1950".
For more detail see: LIEGE GUNMAKERS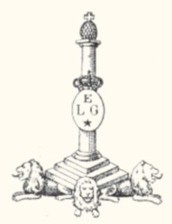 Leruitte-Smeets Clémentine
It is about a revolver with central percussion and box frame.
The loading is practiced by the door placed on the right side of the weapon. It drops thanks to the action of an internal spring. A safety is placed on the side postpones left.
The rifled bore is round with trapezoidal front sight. It is hemmed in its end. The cylinder is grooved and comprises six rooms of calibre 10,5 mm.
The grips in wood (Walnut?) are squared and joined together by a transverse screw and two brass rivet washers. The stick ends in a ring-pivot and a missing ring.
The weapon carries the lawful punches of the proofhouse of LIEGE, namely:
ELG on star in a crowned oval: final acceptance post 1893.
B spangled: countermark of the controller post 1877.
R crowned: rifled bore, of use of 1894 to 1968.
Other marks are also visible, that is to say:
L crowned: it could be a question of the mark of the foundry of barrels?
Crowned LS is most probably the mark of manufacturer LERUITTE-SMEETS Clémentine street Duvivier, 16 in LIEGE. (BE 1854/1892).
GG