Some of the most beautiful work of this craftsman, and many others, are in this book "Liège Gunmakers through their Work. 1800 - 1950".
For more detail see: LIEGE GUNMAKERS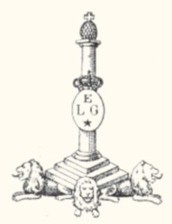 Dieudonné Levaux-Stas
It is about a revolver with central percussion and box frame. The cylinder falls on the right (drop system) while pushing on the pedal placed at the right-hand side from the hammer. The cylinder can thus slip on the pin installation to facilitate the loading unloading!
The weapon is with 6 blows of gauge 320. The grip is in walnut squared.
It carries the punches of the proofhouse of Liege, namely:
ELG on star in a vertical oval: final acceptance, of use of 1853 to 1893.
U crowned: countermark of the controller, of use of 1853 to 1877.
Mark DD LEVAUX Bté indicates that it is about an invention of the arms manufacturer of Cheratte Dieudonné LEVAUX-STAS and who was the subject of patent 33.114 of the 30.08.1873.
GG