Some of the most beautiful work of this craftsman, and many others, are in this book "Liège Gunmakers through their Work. 1800 - 1950".
For more detail see: LIEGE GUNMAKERS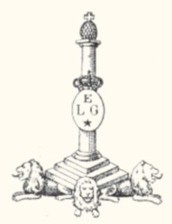 Loron & Gaupillat
This is a pistol with cartridges with spindle, 11 mm caliber according to the lucky owner.
ELG on star in oval: accepted between 1846 and 1893
Y under crown: countermark of a controller between 1853 and 1877
Loron & G: see below.
The weapon corresponds perfectly to the patent 014 908 filed on 29 August 1863 by Pierre Antoine Loron, active in Brussels between 1847 and 1854, at Versailles in 1851, at Barchon-Cheratte from 1855 to 1870, at Houssen in 1858 and 1859, and at Liège in 1863.
He has filed no fewer than thirteen patents, including this one.
We do not understand the "& G" of the signature; P. A. Loron filed a patent with Ernest Gaupillat, but this patent 023 939 dated July 24, 1868 concerns "a cartridge and a cartridge pulley adapted to firearms loaded by the breech", in fact a needle system (Chassepot style) which has nothing to do with the gun we are dealing with.
So: mystery, until now, because hope gives life.....
GP