Some of the most beautiful work of this craftsman, and many others, are in this book "Liège Gunmakers through their Work. 1800 - 1950".
For more detail see: LIEGE GUNMAKERS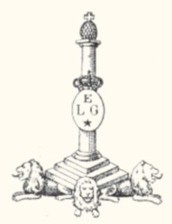 LORON
This open framework and pin revolver is a conversion of same system LORON originally to percussion.
A lever bolt of disassembling placed on the left side of the frame makes it possible to disunite the barrel unit carcass thus allowing a faster unloading/recharging, the access to the cylinder being much easier.
The lever bolt can also act as extractor for the cases inflated by the deflagration.
The capacity of the barrel is of 6 shots and the range of the calibers goes from 7 to 12 mm.
This same revolver was also produced provided with the double action, it is recognized by the absence of peak on the dog.
The grip is finely squared, this grip goes up very high and hold place of plate of covering of the mechanism.
Thanks to the particular shape of this grip the catch in hand is very good.
Entirely polished white, it is finely engraved on the carcass, the console and the barrel.
It carries the punches of tests of Liege, namely:
Spangled ELG in an oval: acceptance of 1846 to 1893.
Y crowned: countermark of the controller of 1853 to 1877.
The console is marked LORON BREVETE
The model with pin meets more often than the model with piston
GG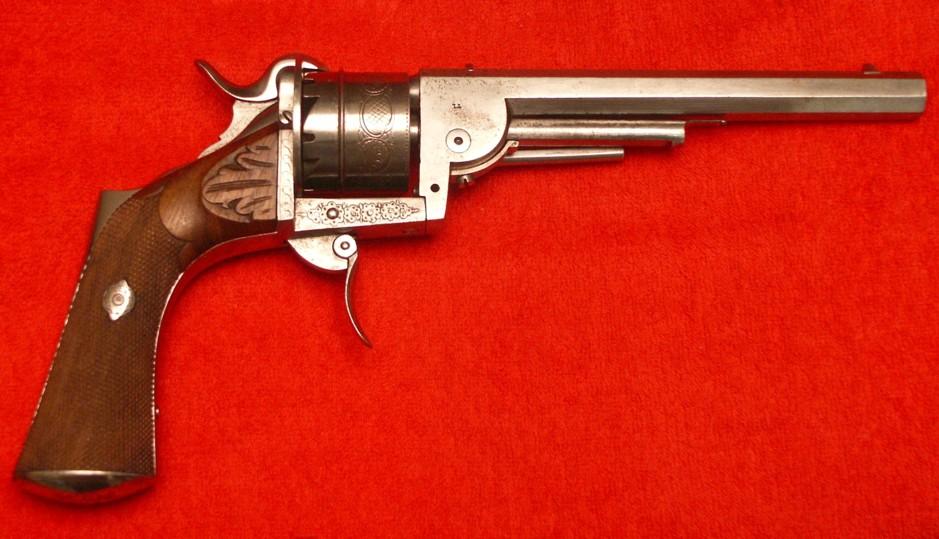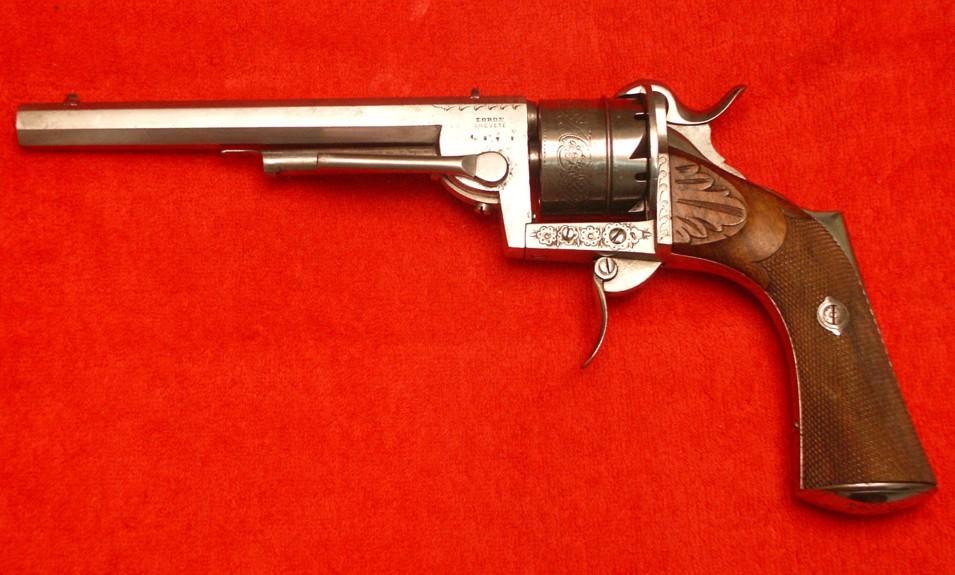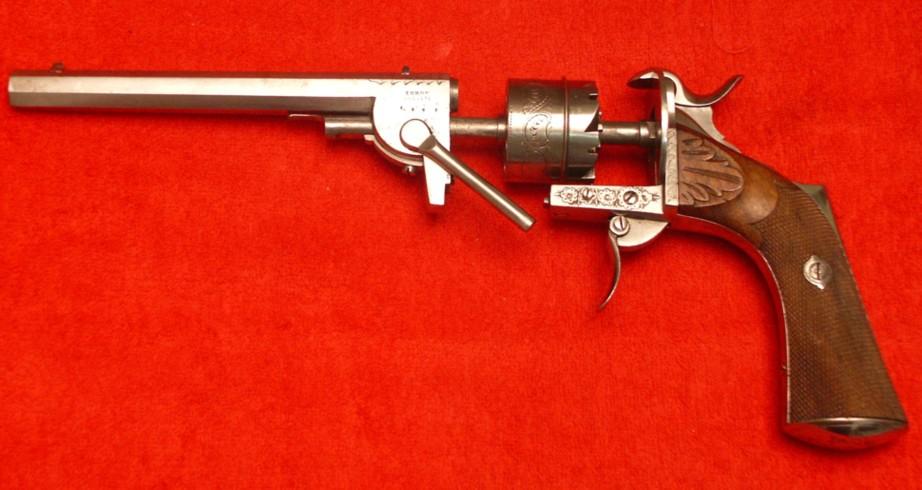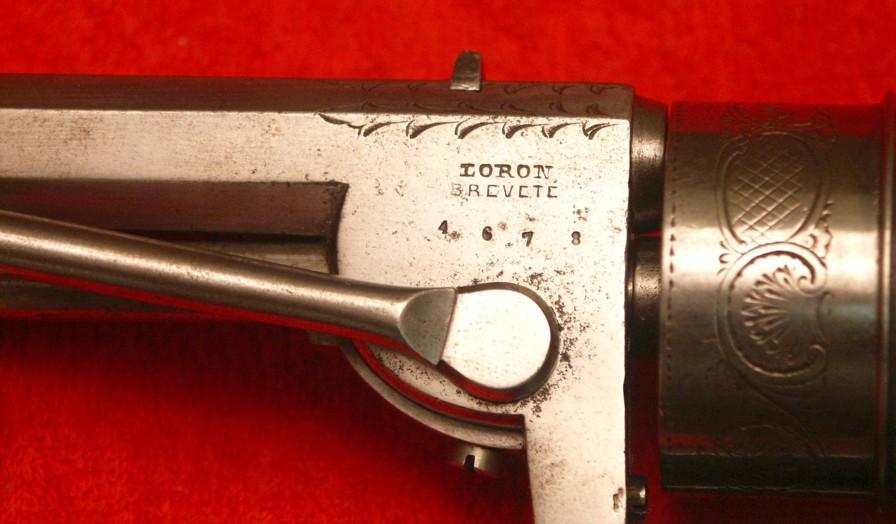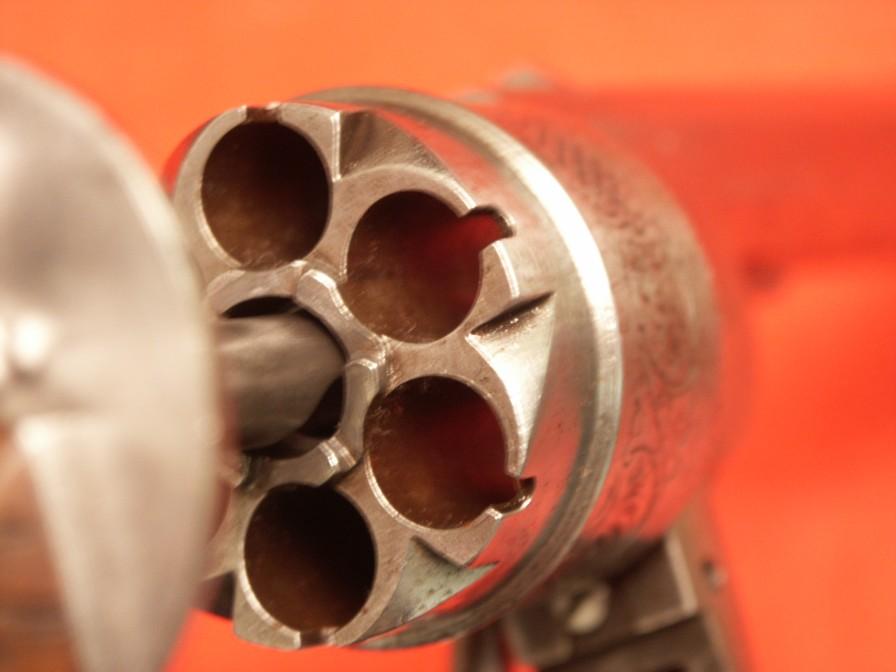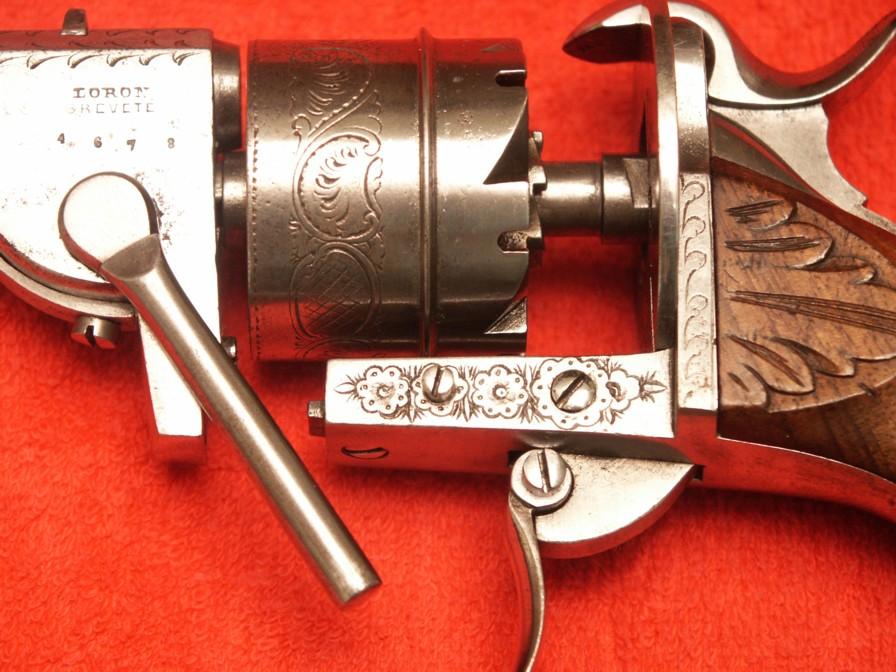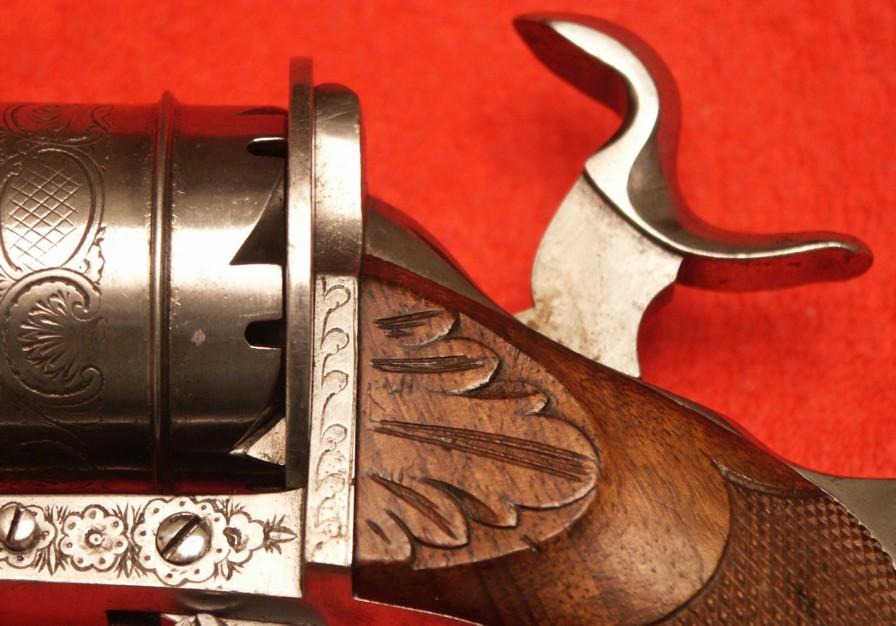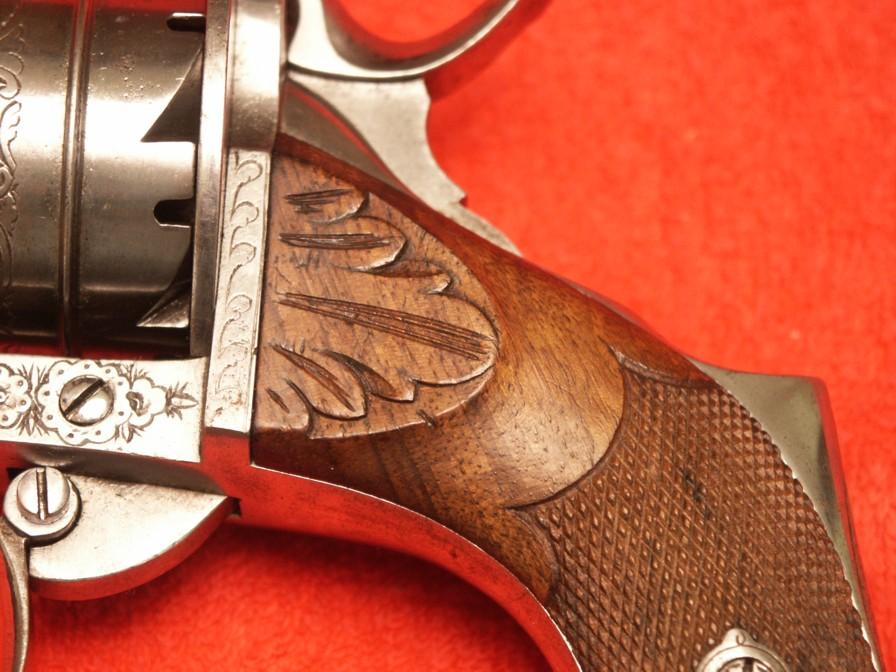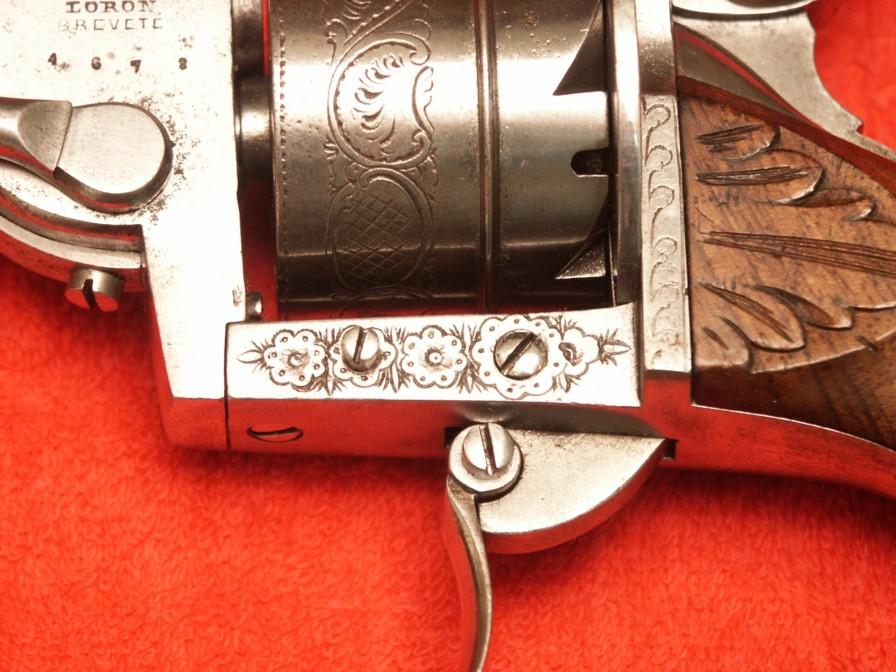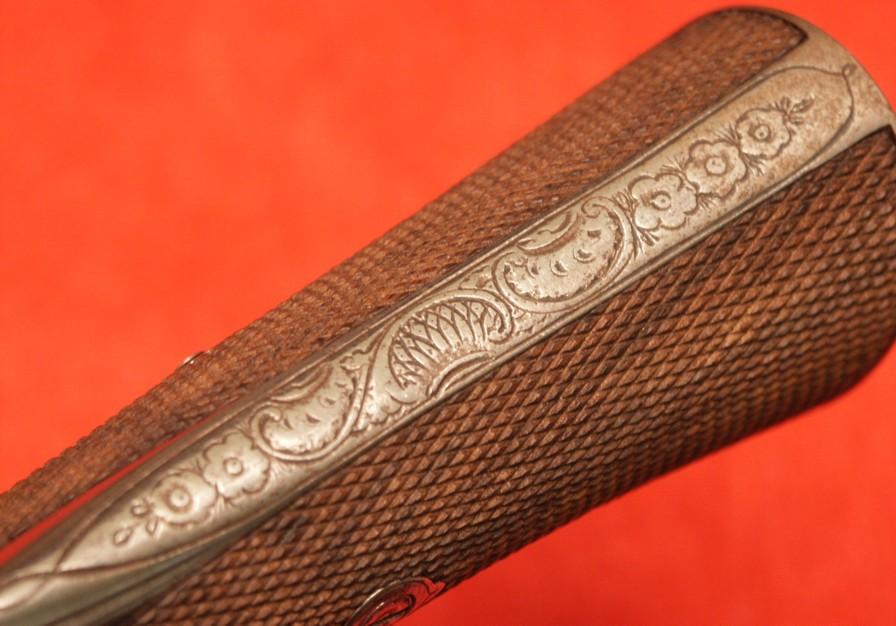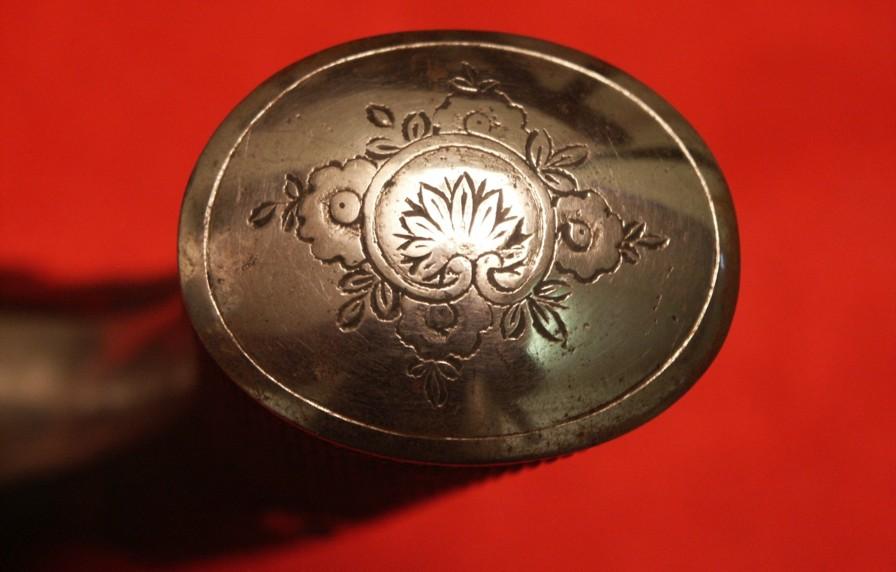 And here is another.
It is beautiful, no? Me I find it superb!!
Pierre Antoine Loron
Belgian revolver pinfire of Loron about 1865, caliber 7 mm.
Octagonal barrel with rail, length 100 mm. Overall length 190 mm, five shots, double action.
On the left side with the back of the barrel the mention "Loron/Breveté" is reproduced.
The weapon is partially patinated, all the parts are covered with engraving of vine leaf in hollow at gilded bottom.
Pierre Antoine Loron made in 1865 in Liege, with his weapon for ammunition with pin, competes with the Lefaucheux system. With the Loron Revolver, by a rotation of 90 degrees of the stem located on the left, the barrel and the cylinder can slide forwards. This system gives the access easier to the cylinder and facilitates the loading and the unloading of the weapon. The stem in question can be also used to eject the casings in the case or this one would not leave easily all alone.
Alain