Some of the most beautiful work of this craftsman, and many others, are in this book "Liège Gunmakers through their Work. 1800 - 1950".
For more detail see: LIEGE GUNMAKERS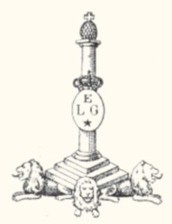 Mahillon H.
Here is a small Lincoln revolver (so with folding trigger) marked H. Mahillon in Brussels, caliber . 320. The barrel and barrel still bear traces of tanning.
The markings
ELG on star in crowned oval: accepted between 1893 and 1968
R crowned: barrel stripped between 1894 and 1968
E under star: countermark of a controller between 1877 and 1968.
This house is well known for the quality weapons it sold (and still sells to the "Maison du Chasseur" in Brussels).
It should also be noted that a catalogue of this house dating from about 1937 has been reissued: http://www.cornellpubs.com/old-guns/item_desc.php?item_id=462
A visit to the web also allows to see the quality of the weapons, especially of (large) hunting, which she did not manufacture but sold under her name.
GP