Some of the most beautiful work of this craftsman, and many others, are in this book "Liège Gunmakers through their Work. 1800 - 1950".
For more detail see: LIEGE GUNMAKERS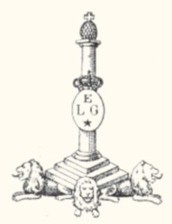 Mariette Gilles
Gun with one shot called "salon" with annular percussion. The barrel is eight-sided with ball front sight. Walnut wood butt is of the renaissance type. It ends with a metal balustrade cap. The trigger guard is finger-resting.
The weapon does not bear any marks from the Liège proofhouse, which is quite unusual!
The weapon bears the inscription Gilles Mariette and the mark of Flobert depicting a stylized lion standing with a sign bearing the inscription Flobert Inv Bte.
Was this gun manufactured by Gilles Mariette for Flobert?
Alain
P. S. : This brand can be seen in detail in the page "Flobert". At the end of this page : www.littlegun.info/arme%20francaise/artisans%20e%20f%20g%20h%20i%20j/a%20flobert%20gb.htm