Some of the most beautiful work of this craftsman, and many others, are in this book "Liège Gunmakers through their Work. 1800 - 1950".
For more detail see: LIEGE GUNMAKERS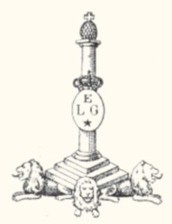 François Martin
Here is a small revolver 7 mm pinfire and frame open very often met in Liege where it was manufactured in hundreds of thousands of specimens by the majority of the manufacturers.
This extremely worn and incomplete specimen probably knew more beautiful days since it carries an engraving of vine leaves in hollow bottom.
The barrel is hexagonal with the thunder then round to the mouth.
The rod and the front sight miss!
The trigger without trigger guard is folding under the frame.
The loading is practiced by a side door opening thanks to a small pedal to press.
The stick in the pear shape consists of two squared plates out of wooden of drowning.
They are maintained by a screw and two rivet washers with ears.
Punches
The weapon carries the lawful punches of the bench of tests of Liege, namely:
ELG on star in a vertical oval: final acceptance, of use of 1846 to 1893.
N crowned: countermark of the controller of use of 1853 to 1877.
By simple deduction, the weapon was thus manufactured between 1853 and 1877.
The inventor
The top of the console carries a strongly unobtrusive inscription where I think of distinguishing the mention E. LEFAUCHEUX INVENTIVE PATENTS, the manufacturer will have probably paid rights to the inventor to avoid a lawsuit in counterfeit.
The manufacturer
The metal amount of stick is marked also partially unobtrusive OIS MARTIN. It could be a question of the manufacturer François MARTIN manufacturer of weapons with Dalhem (province of Liege).
Known between 1864 and 1905, for the deposit of six Belgian patents concerning the revolvers.
GG