Some of the most beautiful work of this craftsman, and many others, are in this book "Liège Gunmakers through their Work. 1800 - 1950".
For more detail see: LIEGE GUNMAKERS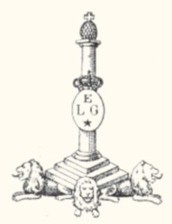 MK
The weapon
Pistol kind "blow of fist" one shot with percussion.
The barrel is with 8 sides.
The trigger without trigger guard is of type "with spur" or "Mexican".
The stick banana seems to be out of ebony with incrustation of brilliance in the shape of reversed cross.
The carcass and the barrel are decorated with engravings standard to volutes.
Punches.
No punch is visible on the photographs.
Markings
Only one marking "MK" is visible on a side of the gun. This awkward engraving cannot in my opinion belong to any manufacturer; it would act rather of initial of an owner (badly inspired) of the weapon.
GG
This pistol is undoubtedly a "HERO", also known in the US as "the poor man's derringer". The US Company Manhattan has produced not less than 30.000 of these pistols between 1868 and 1873; however, Thomas Bacon is thought to have issued them as early as 1861.
According to some authors, the pistols made by Bacon are marked HERO on the barrel.
About 5.000 others are marked HERO-M.A.Mfg Co for Manhattan, and about 25.000 marked HERO-A.S.T. for their successors American Standard Tools Co.
Originally, the pistol was equipped with a screw-off round barrel, available in different lengths.
A funny fact is that an absolutely identical pistol, bearing no marks at all (not even proof marks) has been produced in Liège in considerable quantities. The Liège-made versions are so closely identical to the US ones, that unmarked specimens cannot be distinguished.
One could actually wonder whether these Liège-made versions were made for account of the Manhattan using their own moulds, rather than simple copies. That would explain the lack of proofmarks, which were not requested on weapons originally destined to export.
In that case, the ones that found their way on the home market would be illegal parallel sales or lunchboxes.
Remarkable point is that the grip plates are held in place by a special pin rather than a screw. This pin cannot be removed. Any attempt to disassemble the grips will cause the grip plates to break.
Same goes for the trigger pin, that cannot be removed without damaging the pistol badly. In the event one can remove the hammer screw, it will be impossible to put it back in place. So that pistol is a "disposable" weapon: if damaged, get rid of it and take a new one. Repairs are impossible.
The same characteristic goes for the Liège-made versions.
This is a very cheap pistol anyway. Caliber is .34 smooth bore.
I have seen quite a lot of those, both American and Liège-made, but I had never seen any engraved one so far, nor equipped with an octagonal barrel. My modest opinion is that the engravings (quite nice done) were made on special order after production
(MK could have been an armsmaker or an engraver himself?). It must be extremely rare anyway, because the costs for engraving and changing the barrel, even in 1868, were probably 5 times the price of the pistol!!!
Unfortunately, I have no clue about the Liège producer(s).
Marcel