Some of the most beautiful work of this craftsman, and many others, are in this book "Liège Gunmakers through their Work. 1800 - 1950".
For more detail see: LIEGE GUNMAKERS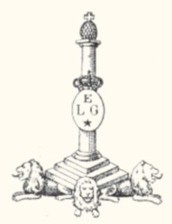 Nasant
The first thing that strikes when examining this revolver is the brand Nasant 7,5 in a circle! The gun has all the look of a 7,5 Nagant but the brand is counterfeit. It is a copy from Liège in view of the following hallmarks of the proofhouse :
ELG * in a crowned oval: definitive acceptance after 1893.
G* and AD*: Controller countersigns, in use from 1877 to 1968.
R crowned: rifled barrel, in use from 1894 to 1968.
The weapon also bears the following markings:
Under the brand Nasant 7,5, another completely illegible brand!
The numbers 407 – 31 whose meaning is probably as nebulous as the counterfeit mark.
L crowned: brand unidentified for years. It does not belong to the proofhouse, as far as we are concerned we think, with no certainty, that it could be a casting brand of the cylinder.
Ultimately a nice copy of one of the various models of Nagant.
GG