Some of the most beautiful work of this craftsman, and many others, are in this book "Liège Gunmakers through their Work. 1800 - 1950".
For more detail see: LIEGE GUNMAKERS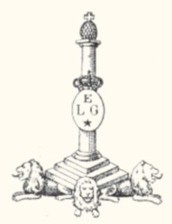 Neumann Frères
It is about a rifle of hunting single shot with central percussion of type REMINGTON Rolling block.
The barrel with eight sides is rifled, of calibre 7,62 and has 5 stripes.
It measures 610 mm while the overall length of the weapon makes 1005 mm
It also carries a front sight fixed rectangular and a back sight in V fixed.
The lock of the rolling-block type comprises an extractor of casing rocking manually towards the back hanging the pad of the casing thus.
The stick out of wooden of drowning is cut way pistol.
The buttplate seems to be in moulded horn and represents a squirrel and the mark of the manufacturer. This kind of plate in moulded horn was provided by the firm FORET of Liege.
The punches are those of the proofhouse of Liege, namely:
ELG on star in an oval: final acceptance, of use of 1846 to 1893.
X under star: countermark of the controller post 1877.
Period of manufacture: between 1877 and 1893.
The other marks are:
NF in a shield: it is about the mark of NEUMANN Frères and Co mechanical factories of firearm, registered voters with the proofhouse of 1860 to 1863 follow-ups of NEUMANN Frères registers with the proofhouse of 1863 to 1924. The company had its house in Liege street Saint Remy 15.
In 1924 the company changes corporate name to become NEUMANN & Co registered with the proofhouse of 1924 to 1962. (See site)
The mark macaroon kind seeming struck again or hammered on the barrel does not inspire to me at all, perhaps a NF of Neumann Frères but nothing is less sure.
GG