Some of the most beautiful work of this craftsman, and many others, are in this book "Liège Gunmakers through their Work. 1800 - 1950".
For more detail see: LIEGE GUNMAKERS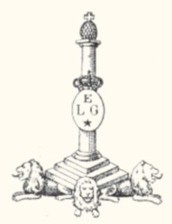 Petry J. Auguste
Here is a percussion rifle with a rear plate, for military purposes since it is possible to attach a bayonet to the end of the barrel.
It is made in Liège, as evidenced by the marks identified and the name "J. A. Petry à Liège" on the lock.
J. Auguste Petry was enrolled in the proofhouse of Liège from 1842 to 1867. It should be noted that in 1862 he filed a patent for a breech-loading rifle closure, but the gun presented here does not correspond to that patent.
The markings
ELG on star in oval: accepted between 1846 and 1893
H and U crowned: controller countermark between 1853 and 1877
JM crowned: same or an unidentified gunner's mark
C or GR: unidentified
DR: unidentified
GP