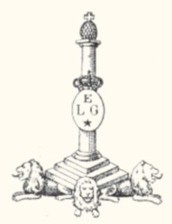 Henri Pieper
The weapon
It is about a single shot rifle of system REMINGTON of gauge .22
It was manufactured by the company of Henri PIEPER street of Bayards in LIEGE, it is of type 010-011 or 012?
The barrel with 8 steel sides is striped.
It carries a bead out of V and a front sight in barley grain.
The trigger under trigger guard is curved and smooth.
The stick in wood (walnut tree?) is worked with English.
It ends in plate of a metal and concave buttplate.
Punches
The weapon carries the lawful punches of the proofhouse of Liege, namely:
ELG on star in a crowned oval: final acceptance post 1893.
A spangled: countermark of the controller post 1877.
R crowned: rifled bore, of use of 1894 to 1968.
Peron: inspection post 1853.
Marks
H.PIEPER S PATENT LIEGE BELGIUM: mark of the manufacturer Henri PIEPER.
FL 22 L: gauge 22.
BAYARD macaroon on the stick: mark deposited by Henri PIEPER the 04.01.1894.
GUST BLOCK: I did not find translation satisfactory.
Period of manufacture: Henri PIEPER being deceased in 1898, presents it weapon was thus manufactured between 1894 and 1898.
GG
You have the privilege to have a rifle H.Pieper system Remington, Type 010, 011 or 012. This weapon, with central or annular percussion, was chambered in various calibers of the 6 mm to the .380. It appeared in the catalogues of Henri Pieper then Establishments Pieper, both located Rue of Bayards in Liege. Its manufacture must be in a fork ranging between 1893 and 1905. The punch of test (A spangled) belongs to a controller impossible to identify, the list of the profhouse of this period having disappeared.
The state of conservation is excellent for a weapon of this age. It's a pity that one of the owners considered it convenient to engrave its name there…
For the types, also sorry because I do not have a certainty; I suppose - logically - that the type is in relation to the gauge: 010 = 6 mm; 011 = 9 mm Flobert; 012 = .380 revolver.
Conclusion: you would be the happy owner of a Type 010! Lucky devil.
Michel
NB: the production of weapons of H.Pieper appears (with illustrations) on pages 43 and following of my book, like on pages 119 and following for Ets Pieper.