Some of the most beautiful work of this craftsman, and many others, are in this book "Liège Gunmakers through their Work. 1800 - 1950".
For more detail see: LIEGE GUNMAKERS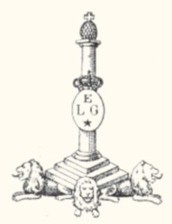 Martin Pirotte
This revolver "drop system" has a cylinder falling on the right thanks to the trigger guard which swivels on an axis placed in front of the carcass. The other end is hung up again on the handle.
The weapon carries the punches of the proofhouse of Liege, namely:
ELG on star in a vertical oval: final acceptance, of use of 1846 to 1893.
F spangled: countermark of the controller post 1877.
That thus gives us a period of manufacture going from 1877 to 1893.
The plates which seem to be in moulded horn carry a mark in the shape of flower (chrysanthemum kind of the Japanese army) but that does not correspond to nothing as a whole marks of Liège. Perhaps it's only a decoration ?
According to the patent n° 73987 of the 16.08.1886, it would be about a weapon designed by PIROTTE Martin arms manufacturer with WANDRE (Liege). (See patent in appendix).
GG