Some of the most beautiful work of this craftsman, and many others, are in this book "Liège Gunmakers through their Work. 1800 - 1950".
For more detail see: LIEGE GUNMAKERS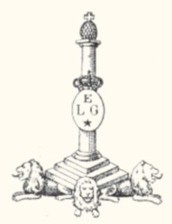 Revolver with plate of covering
It is about a revolver of pocket with particular system since the rod slips laterally with the barrel and has at its end postpones a small screw which is used to him as blocking in race end of exit. At this place, the spring of maintenance penetrates in a light hollow of the rod and confers to him a rigorous holding position.
The head of the rod is notched.
A pawl placed under the axis of the cylinder makes it possible to release this one.
A large knurled screw placed at the top of the handle releases the plate of covering and largely gives access to internal mechanics.
The hammer is rebounding and the door rocks backwards.
The barrel is with 8 sides and is equipped with a front sight in half-moon. The bead is dug in the higher side of the console.
The trigger without trigger guard is folded up under the frame.
The cylinder is grooved and with 6 rooms gauges .320 of them.
The plates out of ebony wooden squared and are finely maintained by a transverse screw and two rivet washers.
Punches
ELG on star in an oval: final acceptance, of use of 1846 to 1893.
H under star: countermark of the controller post 1877.
The period of manufacture thus ranges between 1877 and 1893.
Marks
Of the manufacturer or the inventor: nothing.
4 and 18: are of the series or sequence numbers.
Conclusion
Arm with system interesting but impossible to identify without the least starting indication!
GG