Some of the most beautiful work of this craftsman, and many others, are in this book "Liège Gunmakers through their Work. 1800 - 1950".
For more detail see: LIEGE GUNMAKERS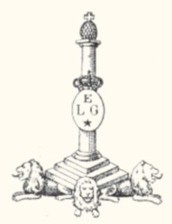 Robar L. & C°
The weapon
Revolver MELIOR in 9 mm (short?) NEW MODEL produced by firm ROBAR L. & Co street Cherished, 29 in Liege in between two wars.
This firm was active under several corporate names of 1907 to 1972.
Punches
This specimen carries the punches of the proofhouse of Liège, namely:
PV surmounted of a stylized lion: test with the powder without smoke, of use of 1898 to 1968.
C under star: countermark of the controller post 1877.
ELG on star in an oval under crown, final acceptance post 1893.
Marks
Feu/Sur (Fire/security): indications of safety.
9 mm: calibre.
Patents 259178 - 265491 LIEGE Belgium: without comment. The inventor of this weapon would be the sior H. ROSIER which would have yielded his rights to company ROBAR.
56307: serial number.
The logo of the grips MELIOR CR° belongs to firm ROBAR.
GG