Some of the most beautiful work of this craftsman, and many others, are in this book "Liège Gunmakers through their Work. 1800 - 1950".
For more detail see: LIEGE GUNMAKERS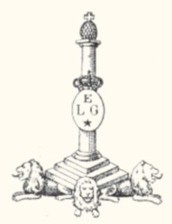 ROCOUR DELSA B. & Cie
The weapon
It's an open frame revolver to vertical percussion (with pin) of calibre 12mm.
The cylinder is grooved and comprises six rooms.
The round barrel carries a front sight raised to be seen when the hammer is armed.
A bead is dug in the head of hammer.
The metal rod slides in a guide integrated into the console and is maintained by a small leaf spring.
The loading is practiced by a right side door, dropping thanks to the action of an external spring.
The pear stick consists of two plates of walnut smooth fixed using a screw and of two rivet washers at ears. It ends in a ring of suspension fixed using a screw pivot in the metal skeleton.
Punches
The lawful punches struck the weapon belong to the proofhouse of Liege, namely:
ELG on star in an oval: final acceptance of 1846 to 1893.
N crowned: countermark of the controller, of use of 1853 to 1877.
The weapon was thus manufactured between 1846 and 1877.
Marks
Mark RD in a cartouche lying could in any assumption belong to the arms manufacturer of Liège ROCOUR DELSA B. & Co registers with the proofhouse of Liege of 1872 to 1875.
It is patentee Belgian for improvements brought to the pistol-revolvers with central pinfire!
Other marks (LM - NR? - JG?) are unknown for me, they most probably belong to subcontractors.
GG