Some of the most beautiful work of this craftsman, and many others, are in this book "Liège Gunmakers through their Work. 1800 - 1950".
For more detail see: LIEGE GUNMAKERS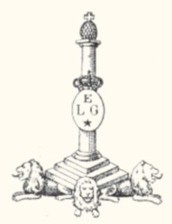 Schaeffer & Kaufmann
This is a revolver based on the patents filed by Théophile Gerard.
And also
http://www.littlegun.info/arme%20bresil/militaires/a%20revolver%20gerard%20gb.htm
The markings
ELG on star in oval: accepted between 1846 and 1893;
? ? IB in an oval near the lacrosse beak: unidentified.
As mentioned, several manufacturers have produced Gerard revolvers, including, and this is a first for the website, the Schaeffer & Kaufmann association in Liège, registered in the proofhouse between 1883 and 1888 (which allows us to locate the year of manufacture). They filed a patent in 1883 and two trademarks, in 1884 and 1885, one with a two-headed eagle holding a ribbon in its greenhouses with the inscription "Trade mark", the other showing a scale with the letters CA in a circle. The company took over the business of Gustave Kaufmann (active in the proofhouse from 1873 to 1883).
In 1889, Kaufmann and Schaeffer split up, the latter forming a partnership with Bremken.
GP and HPH