Some of the most beautiful work of this craftsman, and many others, are in this book "Liège Gunmakers through their Work. 1800 - 1950".
For more detail see: LIEGE GUNMAKERS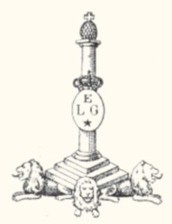 SCHOLBERG & JONCLA
The weapon
Pistol with juxtaposed unrifled bores and falling block inspired seems system REMINGTON-NAGANT. The hammers with central percussion are external.
The two barrels are round and seem to me smooth. The gauge is .450.
The loading is practiced by the breech which is closed again using a door being used as extractor.
A brass front sight in the shape of ball is aimed between the barrels.
The trigger guard protects two triggers and is with rest-finger.
The unit was to be nickelled in the beginning and the whole carries a simple engraving of foliage.
The stick consists of two plates in moulded horn superbly decorated with various reasons for foliage and horn of plenty. It ends in a metal cap supporting a screw-pivot which comprised in the beginning a ring of suspension.
Punches
The weapon carries the punches of the proofhouse of Liege, attesting origin of the weapon, it acts of:
Peron: inspection post 1852.
P spangled: countermark of the controller post 1877.
Mark ELG on star in an oval with or without crown is not visible on the photographs; this mark indicates that the weapon received the final acceptance of the proofhouse.
Marks
The palm tree struck the barrels, is a trade mark the 16.06.1892 by firm SCHOLBERG, JONCLA & SYLVA, street Jonfosse, 22 in LIEGE.
The mark struck between guns SCHOLBERG & JOUCLA Btés A PELOTAS is of course same firm even if it is incomplete and comprises a large fault.
PELOTAS is a Brazilian city of the south-east of the State of Rio Grande do Sul where SCHOLBERG Guillaume had probably founded a counter in partnership with people of the vintage like JONCLA & SYLVA?
It also founded other arms companies like SCHOLBERG & GADET (1861/1885) SCHOLBERG & DELHEID (1904/1908)
GG